Northern Alberta Spring Bear Hunts
Misty River Outfitters offers Canada black bear hunting in the spring of the year. Two bears can be harvested by each client. Our area has a very healthy bear population as well as some of the highest color phase numbers in the province. We hunt remote sections of our area where there is ZERO resident pressure and bears grow big and old. You will see many bears during your hunt and harvest trophy-quality bears. We hunt over bait from tree stands and ground blinds. Up close and personal. Camps are wall tents, wood stoves, and generators. Cabins, running water, and hot showers at our fly-in lodge camp. All the comforts of home and some of the best home cooking found in a remote camp. Hunters can use a rifle, muzzleloader, bow, crossbow, or a mix thereof.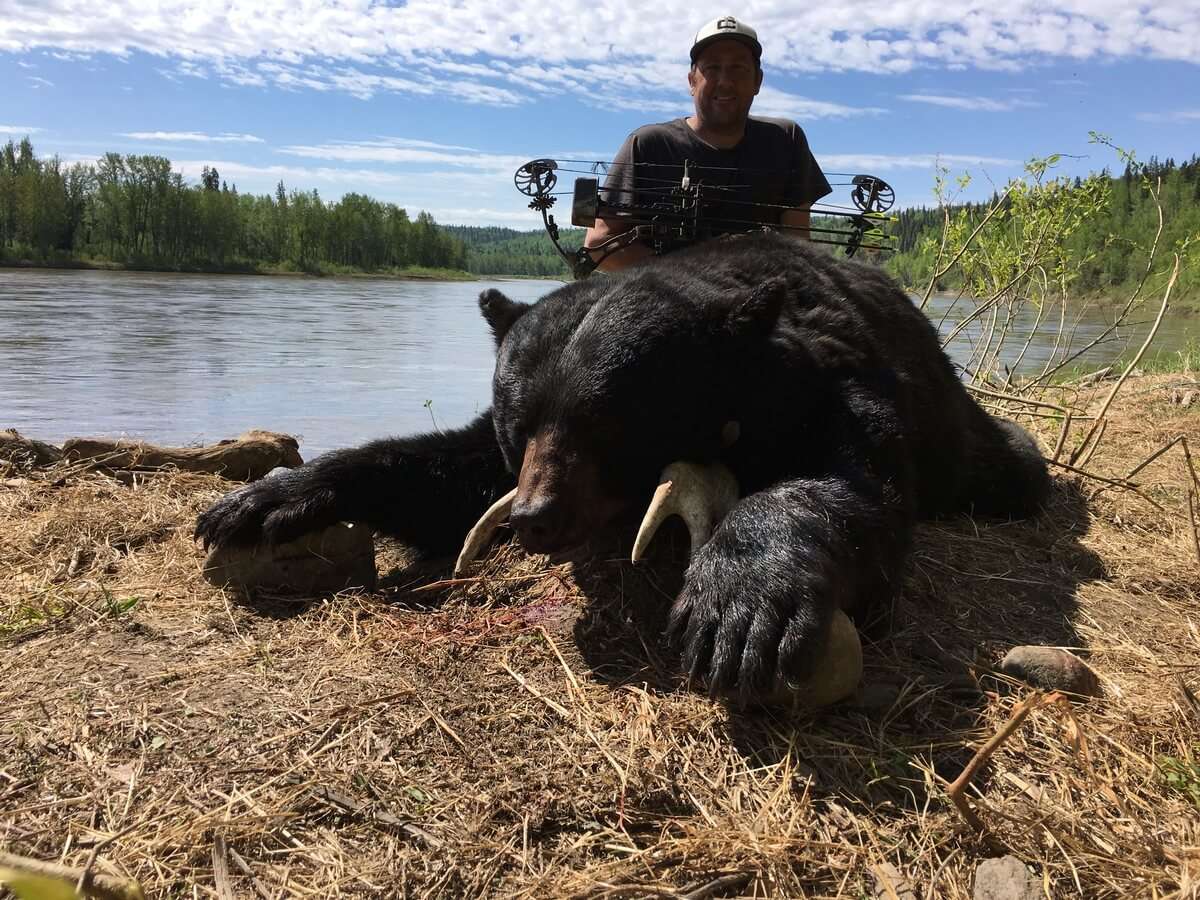 Alberta Black Bear Hunts - River Camp
Our river camp is on the banks of the Athabasca River in Alberta, Canada. We have our clients fly into Fort McMurray on this hunt. We pick you up and several hours later you're settled in camp ready to hunt. Days are spent baiting bears, relaxing in camp, and skinning bears from the previous days' hunt. A short boat ride from camp clients who want to fish can be taken to fish for walleye and northern pike. We hunt in the evenings as this is the most productive and active time on the baits.
Archery Spring Bear Hunts
The river camp is situated ideally for bow hunting. Our professional guides are experienced in archery hunting techniques and our baits and stands are all set up for archery bear hunts.
Rifle Spring Bear Hunts
The great thing about Northern Alberta is that spring bear hunting season for archery and rifle are the same. Hunters can bring both weapons and take a bruin with each or make a decision for hunting method depending on conditions.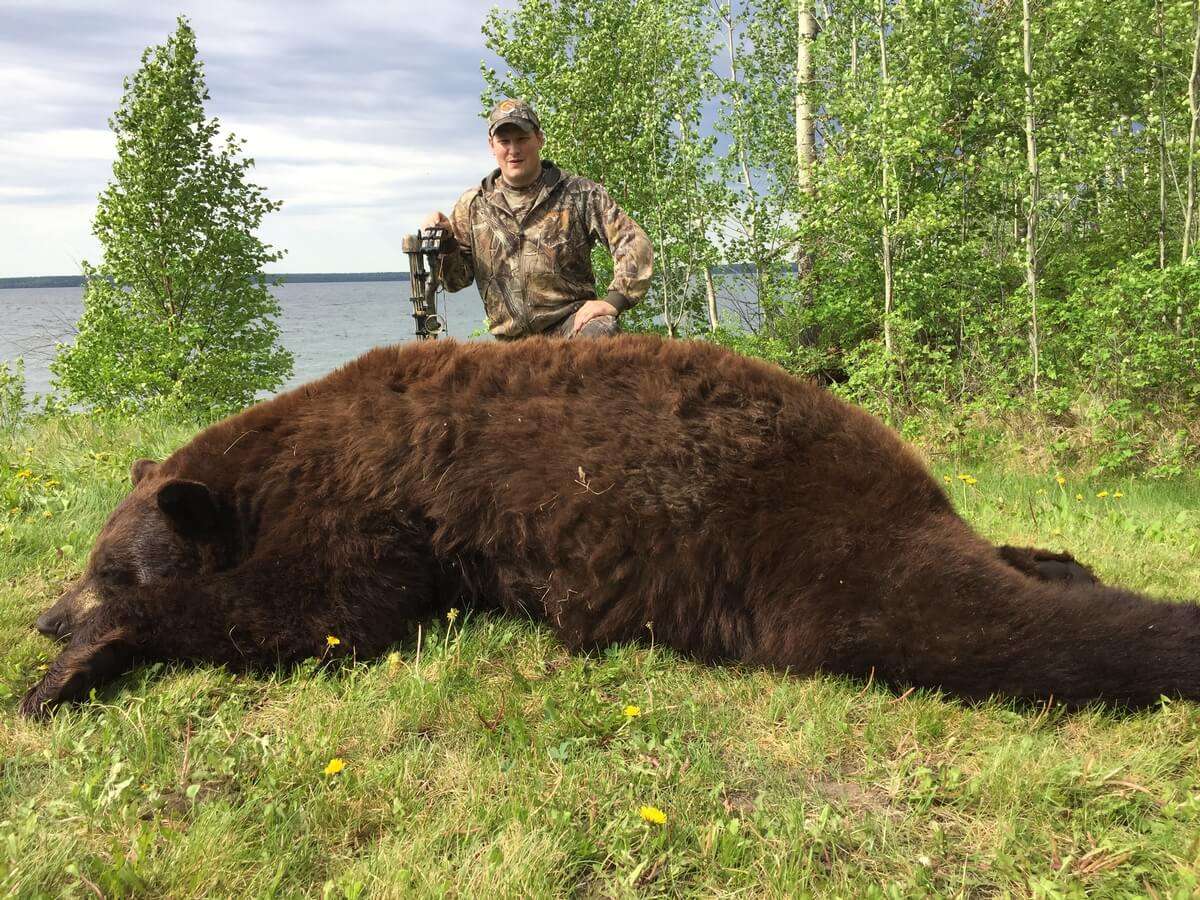 Remote Fly In Spring Bear Hunts
Our Fly-in camp is nestled on the shore of Gypsy Lake in the vast forests of Northern Canada. Here we fly you 55NM from Fort McMurray AB to our private grass airstrip. The Canadian Camp consists of guest cabins, a shower house, and our main lodge. Have some amazing home-cooked meals in the heart of Alberta's backcountry. Enjoy the pristine untouched wilderness and hunt some giant black bears. We are the only ones on the lake and for miles and miles in all directions. Bears here grow big and never see people. We hunt over baits set on the lake edge and be ATV inland on trails. Two bears can be harvested and we have a high density of color. The lake is full of Northern pike and they get up to 30 pounds. So mornings can be spent testing your angling skills on some giant northern.
Fly in Camp Bear Hunting Methods
As with the river camp hunts, the remote fly-in bear hunts offer opportunities for archery or rifle bear hunts. The guides are experts in archery hunts and all hunting areas are set up for rifle or bow hunting.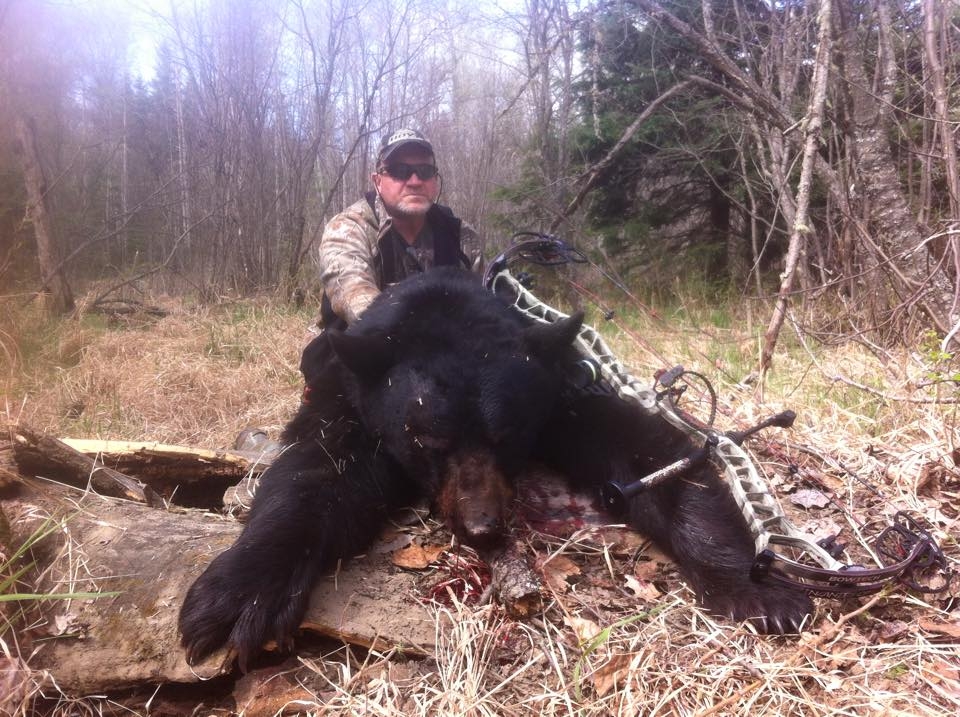 All Inclusive Spring Bear Hunts Alberta
Six-day Canadian Hunt Packages
River Camp Spring Bear Hunts - $4000 US (+$1000 second bear)
Fly-In Remote Black Bear Hunts - $4800 US (+$1000 second bear)
Hunts take place May 15-June 15. Call or email for specific dates.
Hunts include everything but licenses and alcoholic beverages. There is a 5% Goods and Services Tax (GST) on all hunts.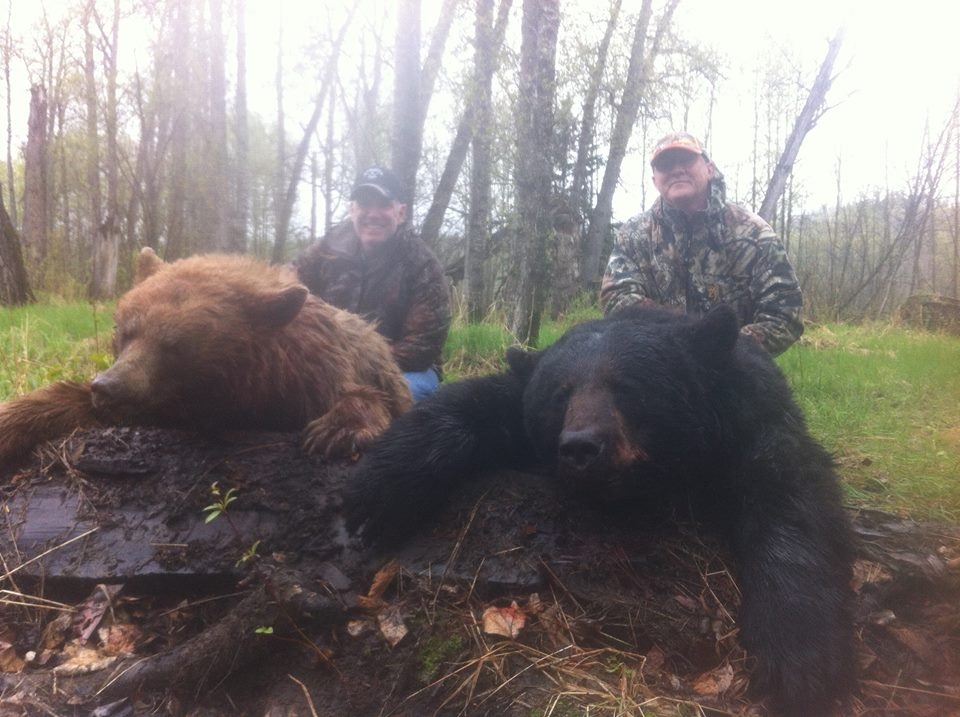 Contact Us
Your outfitter and guide Nick Kuelken will be your host. Living roughly two hours northwest of Edmonton near Fort Assiniboine along the Athabasca River. We look forward to fulfilling every expectation on your bear hunt and making memories to last a lifetime.